30 Jun 2023
Retail sales receive a seasonal boost – June's retail round up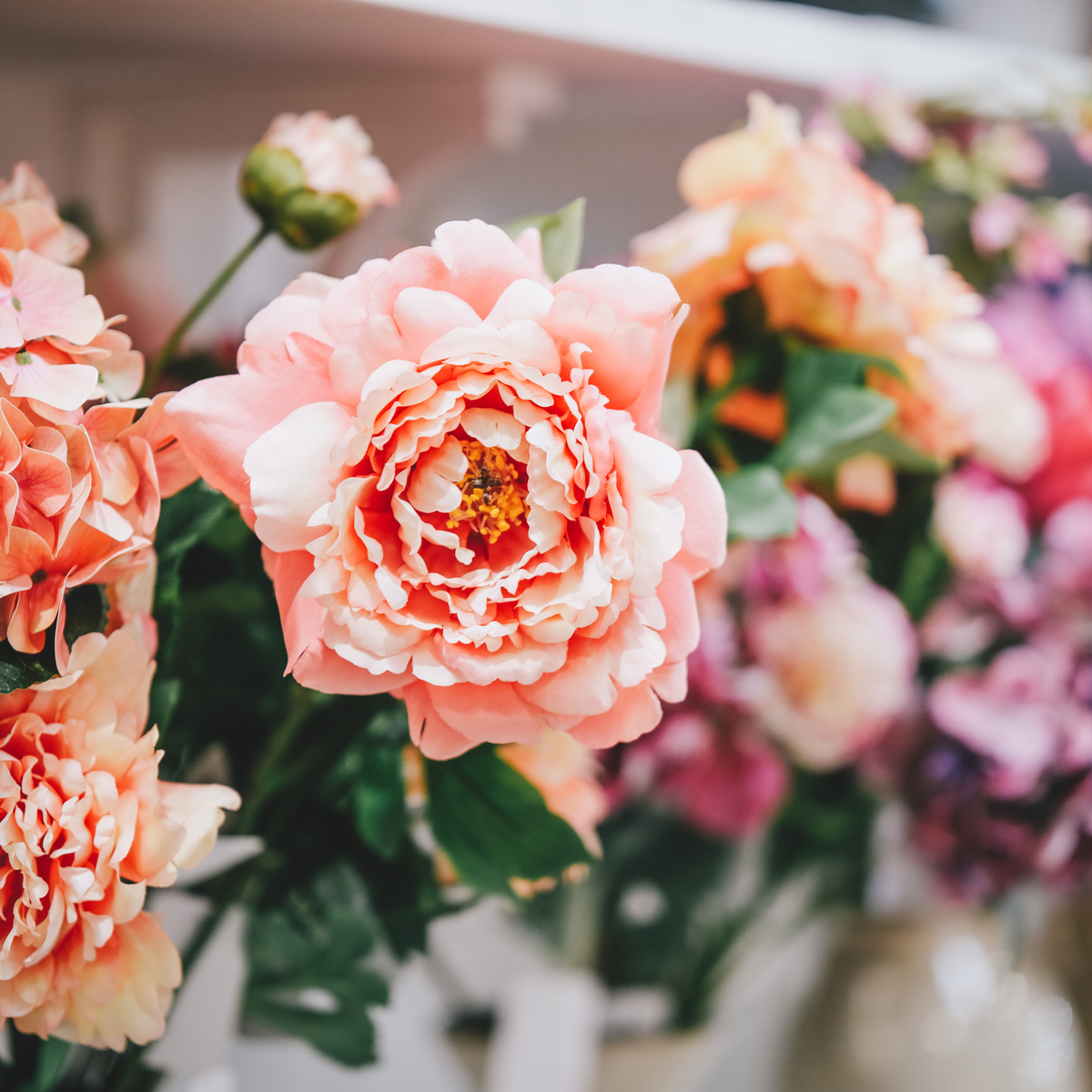 UK consumers are continuing to face high living costs, but warm weather, public holidays and the approach of summer reveal growing resilience as seasonal sales trends endure.
Headline inflation was unchanged from the previous month at 8.7% in May, exceeding expectations and maintaining downward pressure on discretionary incomes.
However, a combination of falling wholesale energy prices, falling import prices and the effects of increasing interest rates on consumer spending will continue to temper inflation as the year progresses.
Concerns over mortgage costs are growing, with the Bank of England raising interest rates to 5.0% in June, the highest level since 2008. This spells further trouble for around 1.3 million households on fixed-rate mortgages who will see their deals expire this year.
Fig 1: UK consumer confidence and business confidence both increased in June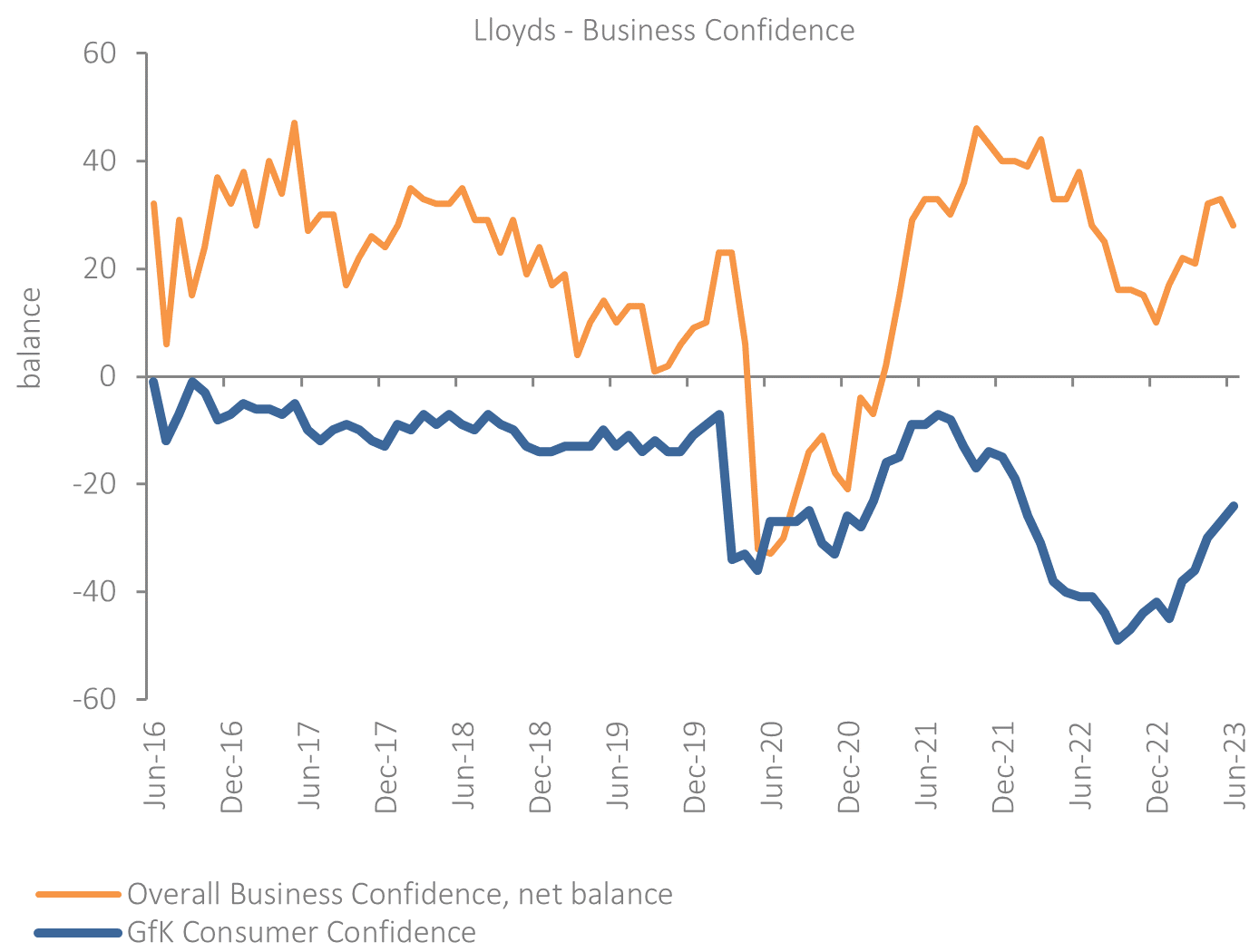 Source: GfK, Lloyds
Consumer confidence edged up three points to a seventeen-month high of -24 in June (GfK), driven by strong annual pay growth of 7.2% amidst a tight labour market (Fig 1).
However, confidence measures ultimately remain negative, and the impact of changes to consumer confidence on spending typically lags by around three to six months. The effects of lower confidence levels reported in Q1 2023 are therefore still being felt.
On the other hand, business confidence increased by 9 points in June to 37% (Lloyds), a thirteen-month high, driven by improving trading prospects as inflation moderates and the UK economy avoids recession (Fig 1). Retail confidence improved for the second consecutive month, reaching its second-highest level this year.
Consumers forced to prioritise amid high living costs
Retail sales increased 6.1% YoY in May (Retail Economics). However, when persistent high inflation is factored in, it points to the fifteenth consecutive month of declining sales values (Fig 2). Although food inflation fell to the lowest level since 2022 in June, it remains elevated at 16.5% (Kantar), continuing to eat into discretionary incomes.
Fig 2: Retail sales value and volume growth have detached due to high inflation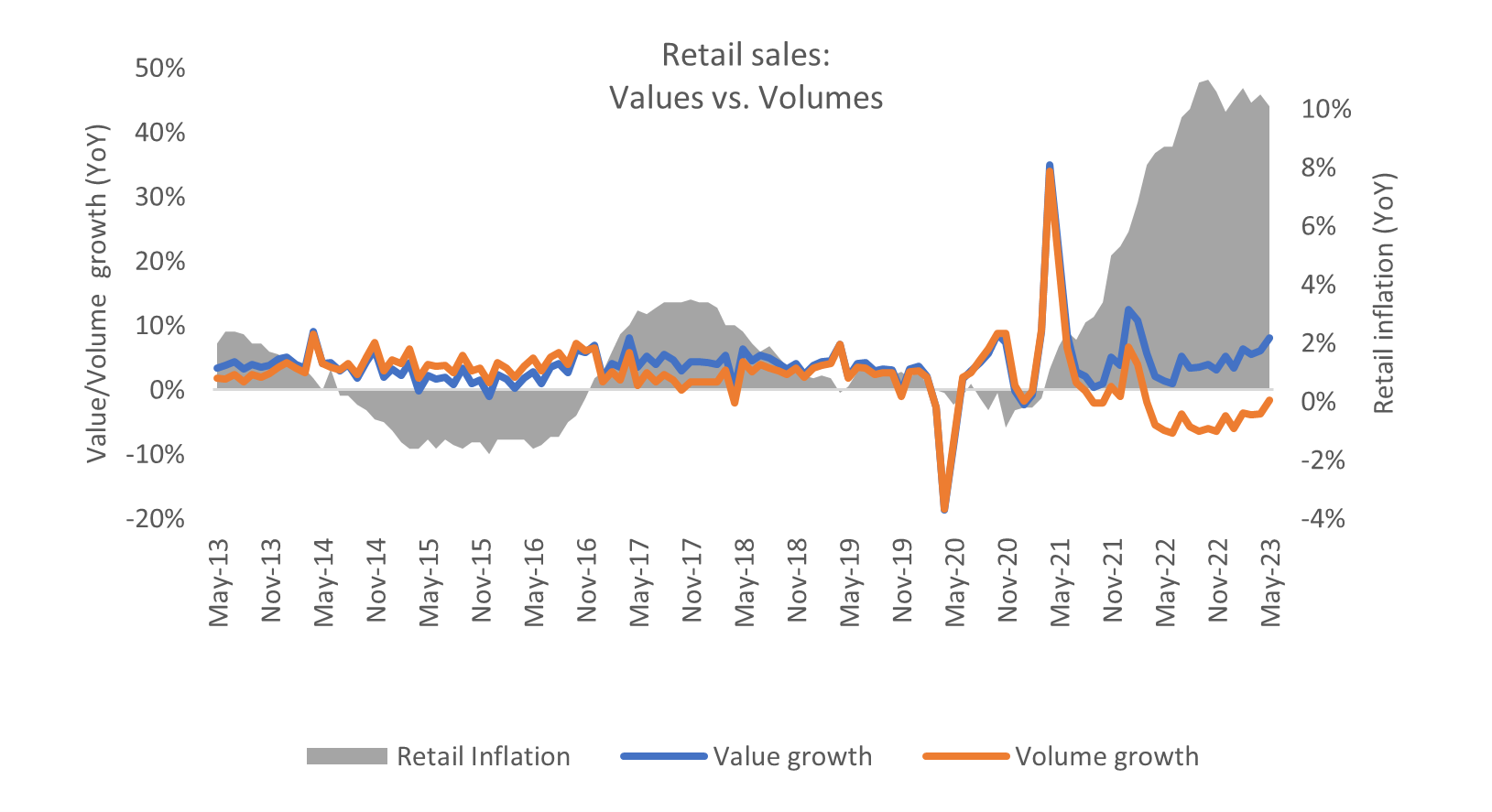 Source: ONS, Retail Economics analysis
Despite a harsh macro backdrop, retail sales in May were supported by public holidays, particularly the King's Coronation, which brought a c. £1.9m boost to the sector, while the seventh warmest May on record further encouraged outdoor activities and spending on summer lines.
Fig 3: May 2023 retail sales by sector

Source: Retail Economics Retail Sales Index (value, non-seasonally adjusted)
Customer journeys are becoming more considered amidst cost-of-living pressures, with shoppers putting intense focus on value. Over the summer months, more than four times as many shoppers expect to dedicate greater spending towards Food than they do to categories that experienced a surge in demand during the pandemic, including Electricals, Homewares and Furniture & Flooring (Fig 4).
Fig 4: In the next three months, do you plan to increase spending in any of the following areas?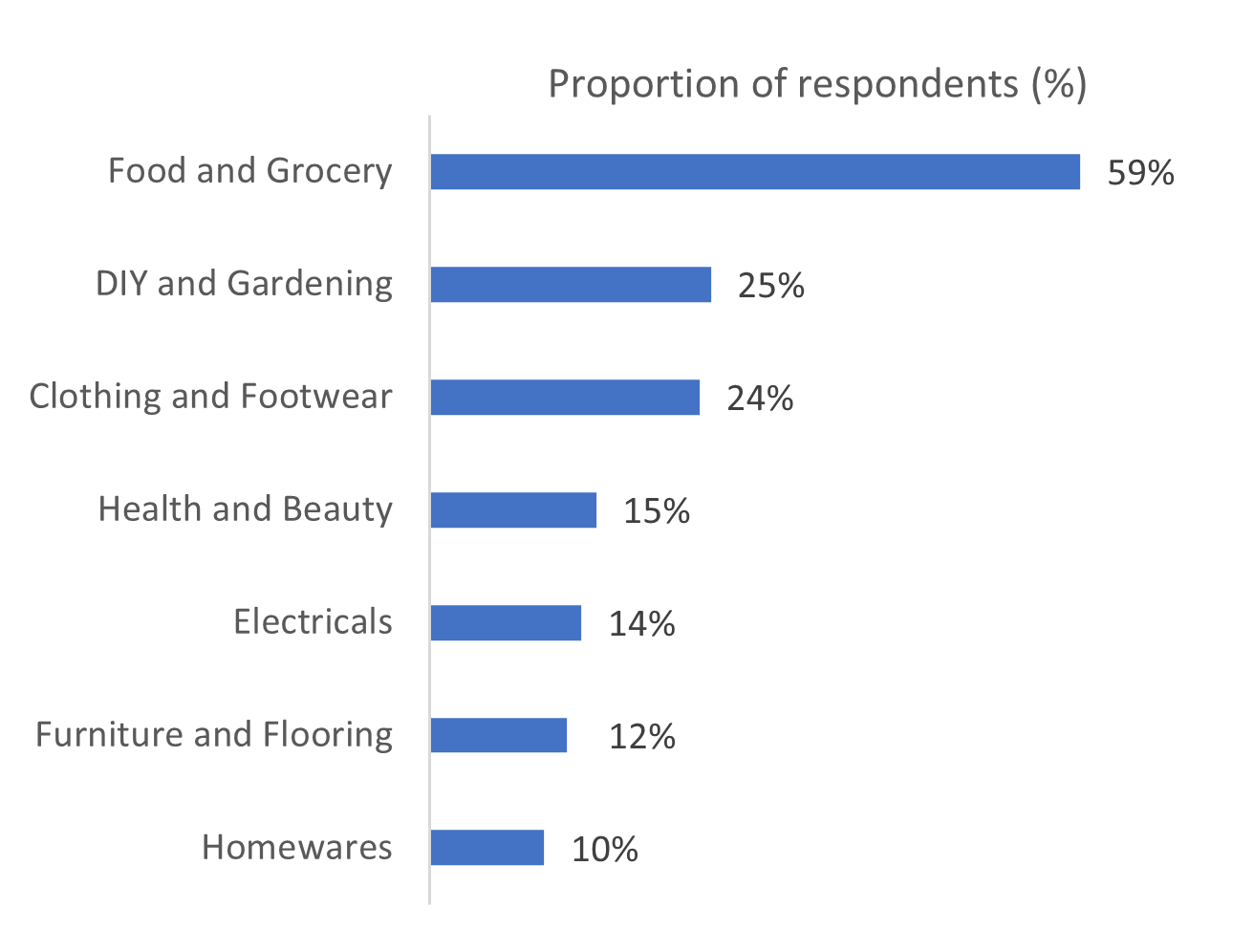 Shoppers are prioritising convenience and price as consumers look to save on online delivery and return fees. Evolving shopper values have supported a continued rise in footfall across retail destinations this year.
Industry Trends & Developments
Travel plans
Retail Economics research shows two-thirds of households (66%) are determined to spend on holidays this year.
Robust demand has seen the average price of the top five most popular holiday destinations for UK travellers rise by 11.9% on last year according to TravelSupermarket.
This has led to increased demand for products such as lightweight clothing, comfortable footwear and accessories in May and June as consumers plan ahead for their summer holidays.
Focus on value propositions
As categories experiencing high demand during the pandemic are prioritised less by consumers (e.g. DIY and Gardening), retailers are seeking increasingly compelling ways of delivering value. Robert Dyas launched a new loyalty scheme in May, giving members access to lower prices on home and garden essentials. Homebase partnered with financial services company Novuna to offer a range of flexible finance options, including BNPL services that will allow customers to spread the costs of home improvement projects.
ESG strategy
Although delivering value remains a top priority for retailers amid tough macroeconomic conditions, megatrends such as sustainability are increasingly coming to the forefront of strategy discussions. Kingfisher partnered with several global home improvement retailers, including Home Depot in the USA and Bunnings in Australia, to form a sustainability task force that will focus on reducing Scope 3 emissions (emissions associated with the indirect impact of a retailer's activity within its value chain).
---
About Retail Economics
Retail Economics is an independent economics research consultancy focusing exclusively on the retail and consumer industry. Our research and membership service empowers organisations with a deeper understanding of the key economic drivers supporting the retail industry, providing a competitive edge needed to make critical business and investment decisions.
Please contact us for information regarding our services:
T: 44 (0)20 3633 3698, W: retaileconomics.co.uk, E: amy.yates@retaileconomics.co.uk,
S: linkedin.com/company/retail-economics