01 Oct 2023
Consumer resilience heading into Peak season – September's retail round up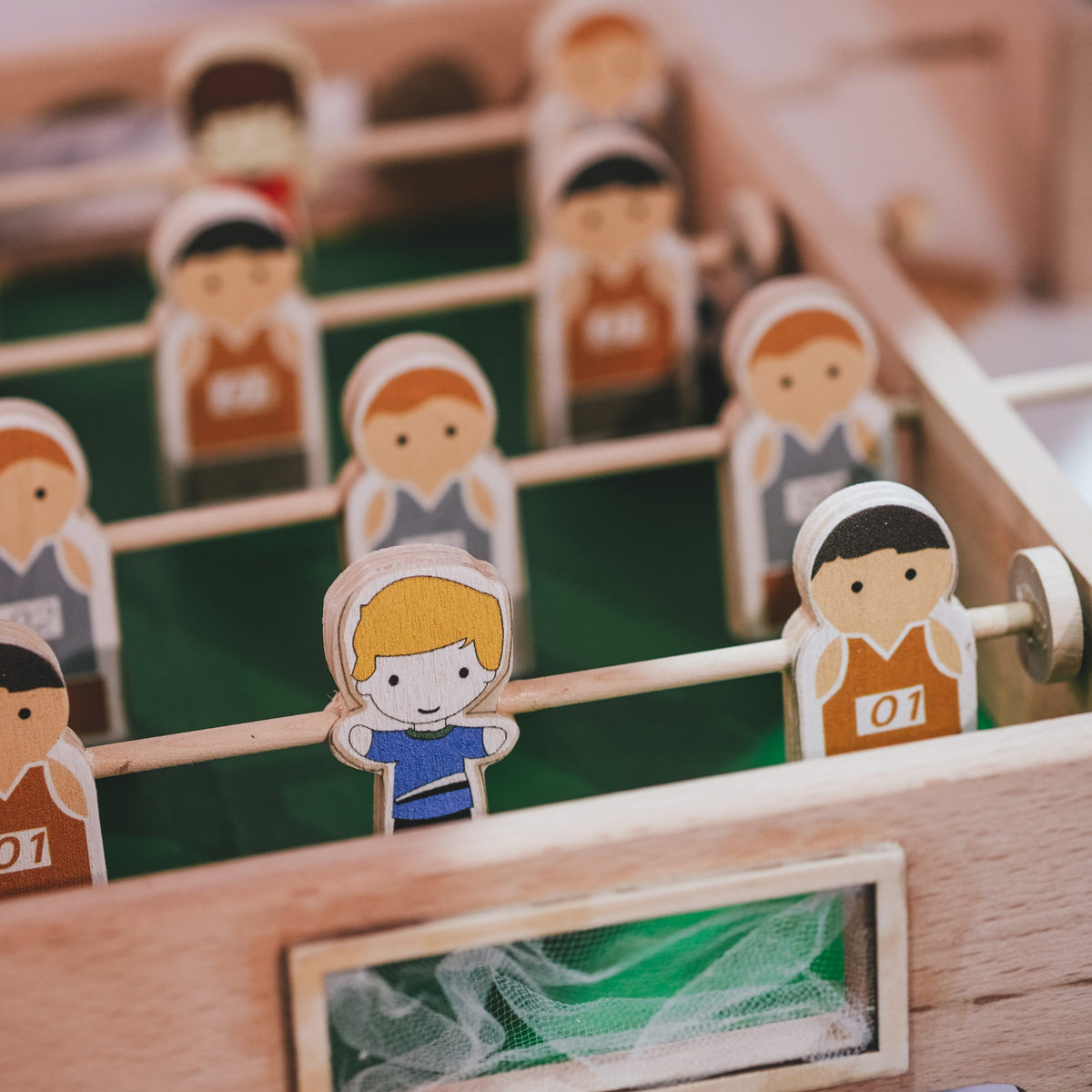 September witnessed an upswing in consumer resilience and optimism as macro conditions improved. However, cost of living pressures remain a defining force for influencing shopping behaviour as we enter the pivotal golden quarter.
Headline inflation eased to 6.7% in August, the lowest rate since February 2022. Core inflation, which remained above economists' expectations in July, also fell below forecasts in the month.
Price rises are likely to continue to soften as the year progresses, with the latest Bank of England forecasts expecting inflation to ease to 5% by the end of the year.
With inflation heading in the right direction, the Bank of England held interest rates firm at 5.25% in September – after fourteen consecutive increases – raising hopes that a peak in borrowing costs is close.
Fig. 1: Consumer confidence grew in September but business confidence fell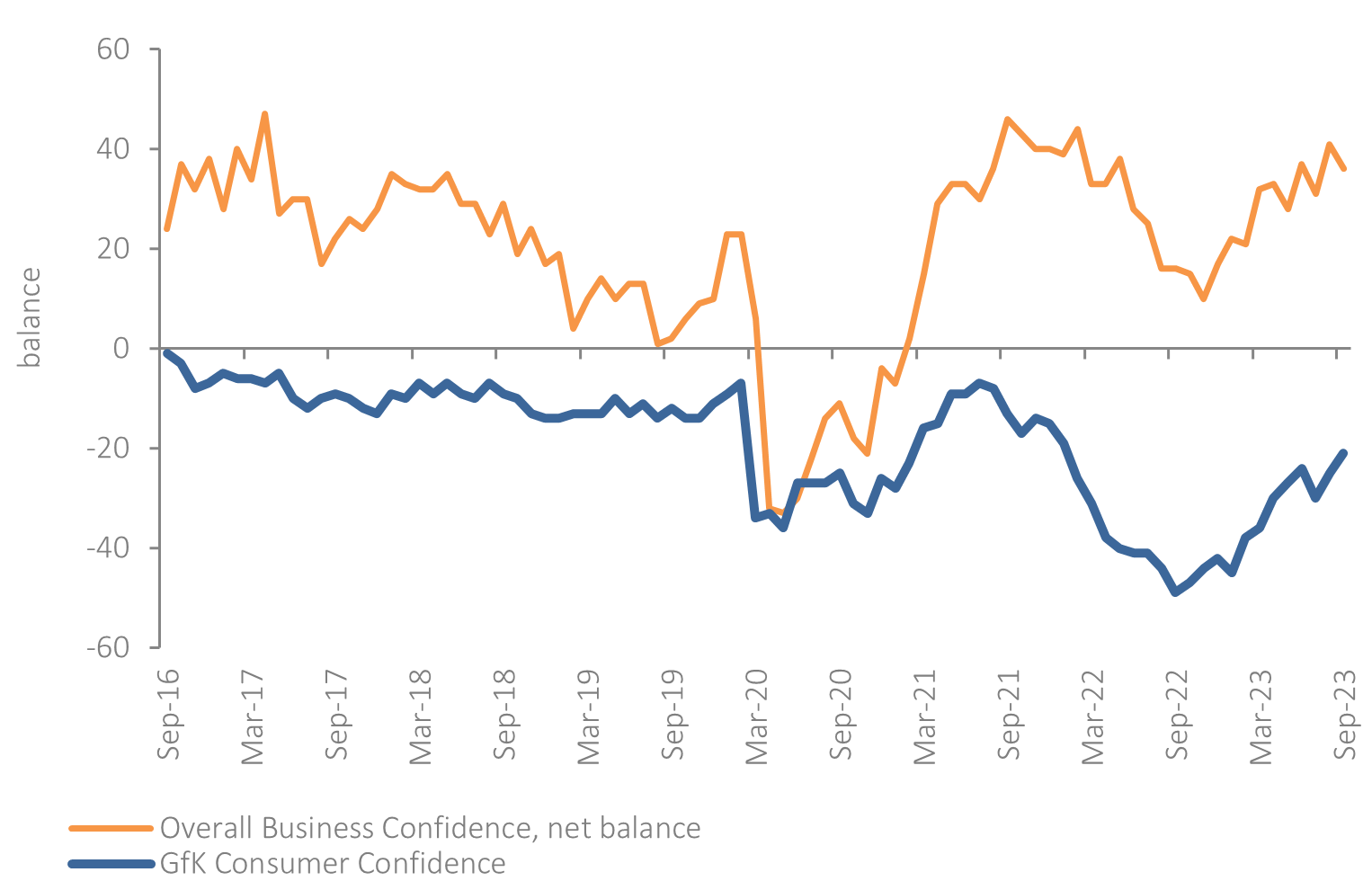 Source: GfK, Lloyds
This led consumer confidence to rise by four points in September to -21, the highest level since January 2022, building on the recovery seen in August (GfK) (Fig. 1).
Readings for forward-looking measures and major purchases have picked up in recent months, suggesting increased consumer optimism about the economy and personal finances.
That said, the overall confidence measure remains firmly in negative territory. Higher interest rates and above-target inflation, coupled with an anticipated slowdown in wage growth, will continue to squeeze household disposable income in the coming months. Retail Economics research shows the typical UK household will have £109 less to spend in the run-up to Christmas compared to last year
(Q4 2023 vs Q4 2022). A meaningful recovery in household spending power is not expected until April 2024.
Business confidence fell five points to 36% in September (Lloyds), driven by a fall in retail confidence from 44% to 32%, pushed down by weaker trading prospects. Nevertheless, this reading remains above the long-term average, with the Q3 average being the highest since Q1 2022.
Barbie and the World Cup boost seasonal sales
Retail sales increased 4.8% YoY in August (Retail Economics). Although this points to a further decline in sales volumes, easing inflation is beginning to narrow the gap between values and volumes (Fig. 2).
Fig. 2: Retail volume declines are easing as inflation softens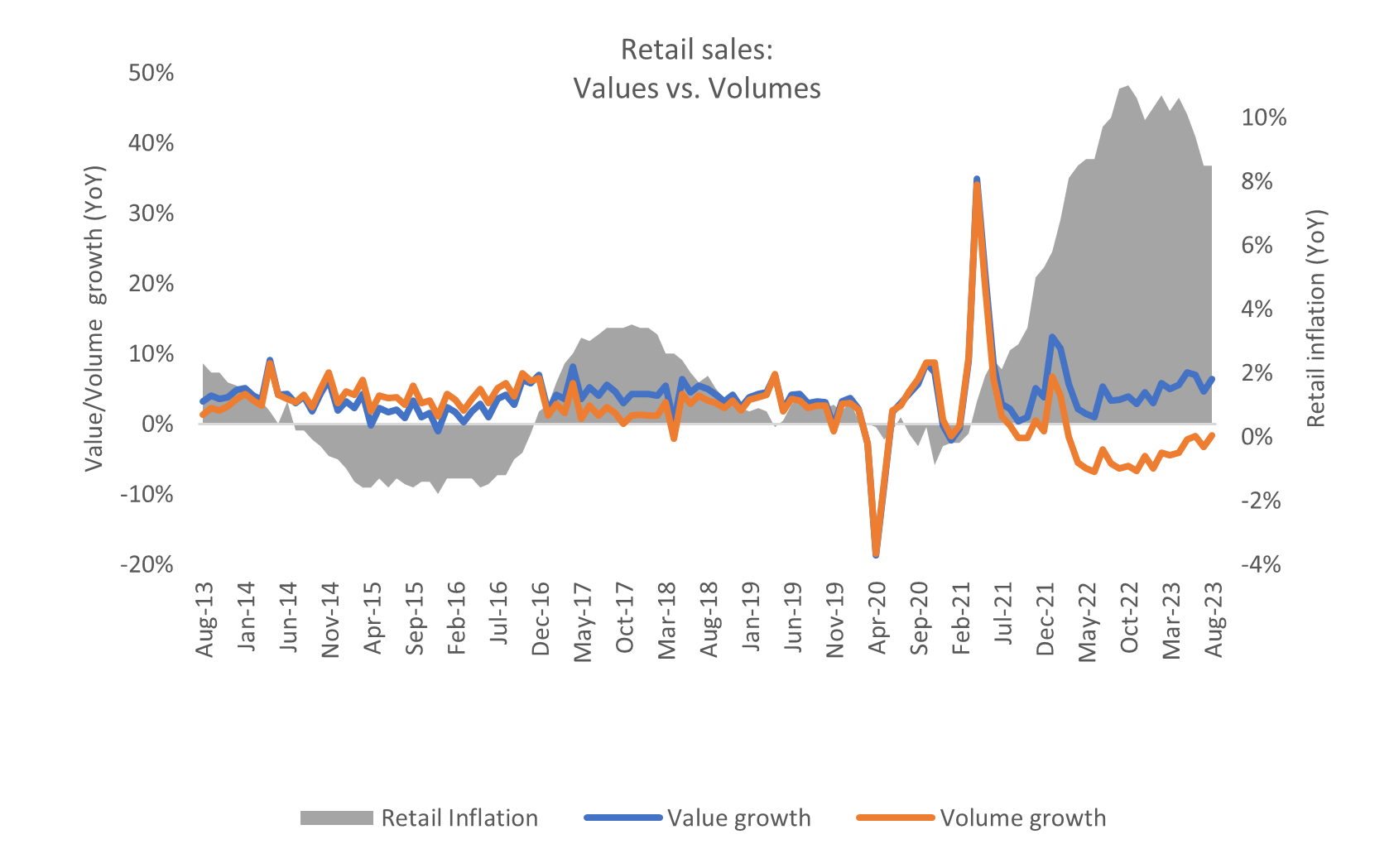 Source: ONS, Retail Economics analysis
The strongest August winds in 30 years disrupted summer sales patterns in the month, but this did not stop the gap from pre-pandemic footfall dropping to -11% (Springboard), as cash-strapped consumers hunted for bargains and end-of-summer clearance items in-store.
Sales in August were boosted by key events, including the release of the Barbie movie, which saw a surge in sales of pink themed outfits, jewellery and accessories.
Party-related food and sportswear also recorded robust sales, driven by the progress of England's Lionesses reaching the Women's World Cup final.
Spending on holidays abroad also remained strong, leading to a boost in sales of summer essentials and cosmetics.
Fig. 3: August 2023 retail sales by category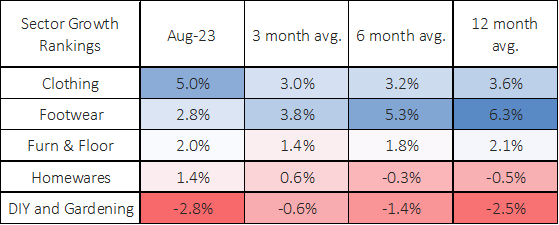 Source: Retail Economics Retail Sales Index (value, non-seasonally adjusted).
Industry Trends & Developments
Sluggish back-to-school sales
August usually marks the peak period for back-to-school sales, especially for uniforms and shoes as the new school year begins. However, this year saw a sluggish start. Many consumers delayed essential purchases until the last moment. While sales did pick up towards the end of the month, they still lagged last year's figures.
Big-ticket home spending is surprisingly resilient
High-income households who have chosen to forego moving home due to rising interest rates are opting to spend on large-scale home improvements instead.
Kingfisher reported strong demand for big ticket kitchen and bathroom projects in the first half of the year, attributing this activity to a fall in property transactions amidst rising interest rates. Although Wickes saw pre-tax profit fall by 24.8% in the 26 weeks to July 2023, its modest sales growth of 0.7% in the period was driven by its Do It For Me kitchen and bathroom service.
Golden quarter prospects
As summer comes to an end, retailers will have their sights firmly set on the most crucial period of trading as consumers prepare for Christmas. Persistent economic instability has honed savvy shopping skills which are poised to impact behaviour over the upcoming festive season. This includes extensive research and evaluation, shopping across channels to find the best deals, and notably, shopping earlier than normal to spread the cost and leverage promotional events such as Black Friday.
Retail Economics research shows 40% of UK households plan to start their Christmas shopping pre-October – in advance of the traditional festive trading period in November and December (Fig. 4).
Retailers will have to work harder than ever to keep prices competitive while catering for more demanding customers who want to shop on and off-line as needed.
Fig. 4: 'Christmas Creep': Two in five UK households start their festive shopping pre-October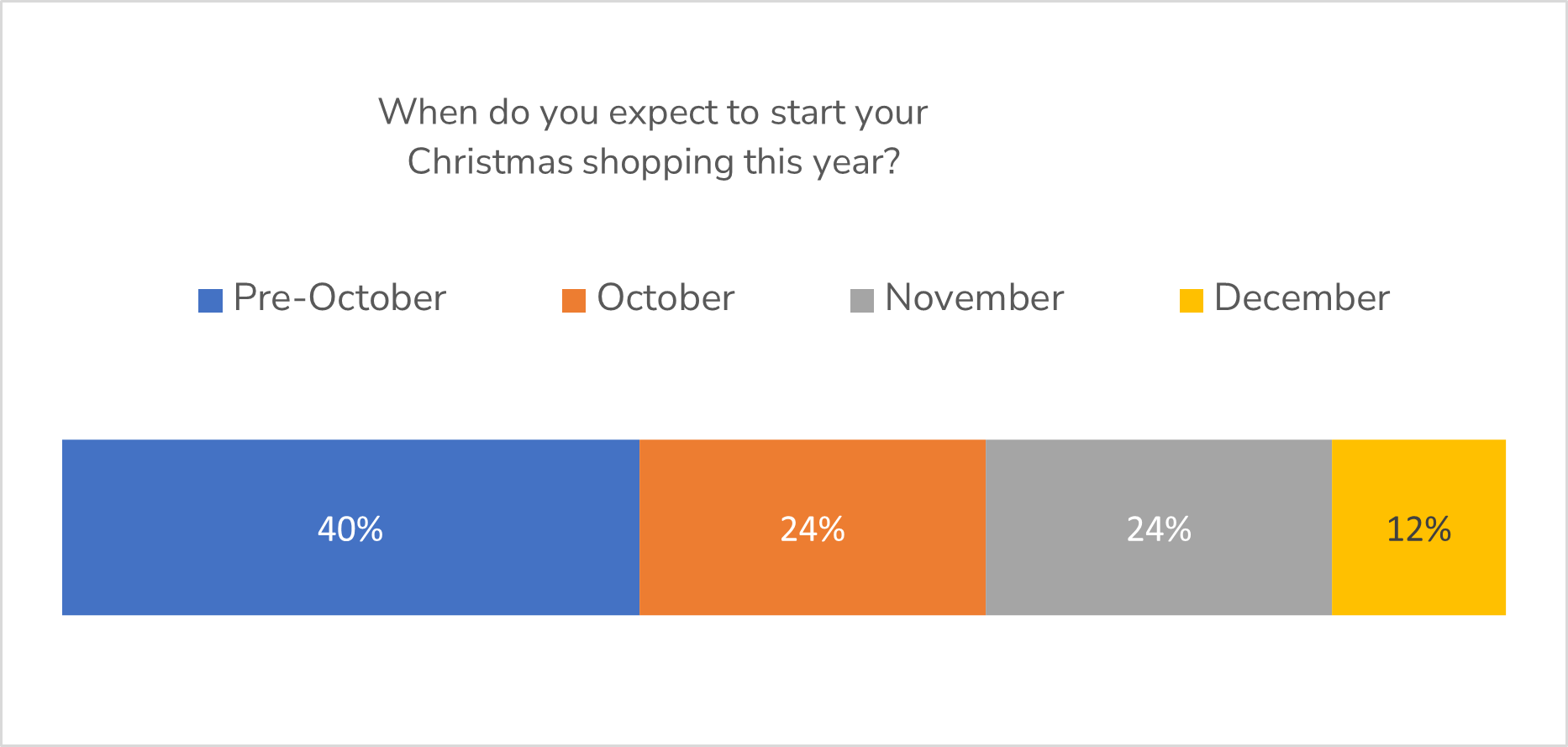 Source: Retail Economics, ShipEngine. N=1500 UK households
About Retail Economics
Retail Economics is an independent economics research consultancy focusing exclusively on the retail and consumer industry. Our research and membership service empowers organisations with a deeper understanding of the key economic drivers supporting the retail industry, providing a competitive edge needed to make critical business and investment decisions.
Please contact us for information regarding our services: T: 44 (0)20 3633 3698, W: retaileconomics.co.uk, E: amy.yates@retaileconomics.co.uk,
S: linkedin.com/company/retail-economic